Board-Certified Behaviour Analyst (USA)
&
Special Education Teacher (India)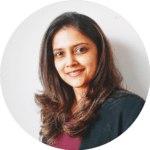 Ontario Autism Program- Clinical Supervisor
Currently supervise BT's and RBT's providing direct therapy and programming for clients based on assessment and parent goals. Implement individualized teaching methods to fit the client's learning needs including inputs from OTs and SLPs. 
Throughout my graduate certificate in ABA, I was fortunate to work in a school setting with children on the spectrum and other varied diagnoses. Under the mentorship of Ms. Jackie Sura, I completed my supervision hours to be eligible for BCBA examination. 
After graduating with a Special Education degree from Mumbai, I have worked at various schools and clinics across India providing remedial tutoring to children with varied diagnoses. After moving to the United States in 2016, I had the opportunity to work with different institutions and working with children under the age of 5. 
A mom to a third grader, a wife, and a lifelong learner.  During my free time, I love reading crime and mystery novels, quilting, and reading the latest research in teaching methods. 
Behavior Analyst Certification Board
Rehabilitation Council of India
Post-Graduate Certificate in ABA
M.Sc. Counseling Psychology

B. Ed. Special education- Multiple Disabilities (Physical and Neurological)

Bachelor of Arts in Psychology